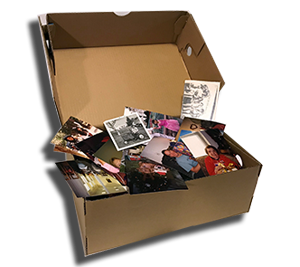 Gathering, sorting, and organizing photos can be an overwhelming and sometimes emotionally draining task. Our team at Gold Star Photo Solutions is here to help.
We create customized management systems for each client to ensure:
Easy access to your photographs and memorabilia.
Proper conditions to reduce the risk of damage from sun, water, insects, and rodents.
Appropriate packaging for originals in acid-free, archival boxes to help keep your photos from fading and deteriorating.
Our process includes:
Working One-On-One with Each Client – to evaluate the scope of your project
Gathering and Sorting Print Media – including photos, slides, and memorabilia – into logical categories that will make accessing items easier and more efficient in the future
Searching for Digital Images – on devices such as computers, cameras, phones, iPods, tablets, external hard drives, and other devices
Reviewing Items For Quality – editing, image correction, and restoration services are available for additional fees
Cleaning and Scanning Items – to create digital images
Creating a Backup System – for all digital images and saving those images to an external hard drive
Offering Options for Storage – of original photos, slides, and memorabilia
Labeling and Categorizing Images – to create an accessible and easy to manage filing system. This includes, but is not limited to: eliminating duplication, adding metadata in the form of stories and tags, identifying and labeling key photos as well as creating digital archives.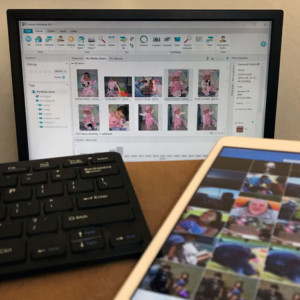 Once your photos, slides, and memorabilia are safely stored and organized for easy access, we offer options for creating beautiful digital photo albums or slideshows for special events like graduations or anniversaries.
For more information about creating a customized management system for your print and digital items or to schedule a free consultation with a Gold Star representative, fill out of the contact form below.