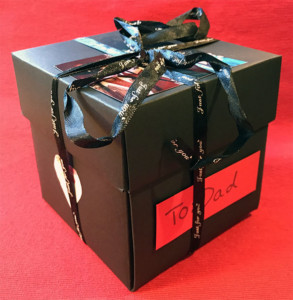 Flowers, chocolates and fuzzy socks adorned with big red hearts – these are my family's go-to Valentine's Day gift ideas. This year, my sister and I decided to create photo gifts for Valentine's Day that are different, unique and totally out-of-the box. For my dad, we chose to make a Photo Explosion Box.
Photo Explosion Boxes are a fun and popular gift that the whole family can enjoy creating. When the top of the box is removed, they explode with pictures, messages, drawings and a tiny surprise in the middle. They are a fun way to give the person you love a creative and unique gift full of photo memories and keepsake messages.
Photo Explosion Boxes come in difference shapes and sizes. You can buy the individual boxes or you can get a kit that includes stickers, cards, ribbons and cutouts. You can also get themed boxes. We chose a Valentine's themed kit that came with a black 4 x 7 gift box, Valentine's stickers, decorative papers, gift tags, ribbons and 3-d flower stickers that helped me customize my box. I ordered ours from Amazon but you can also pick them up at your local craft stores. I chose some of my dad's favorite photo moments and intermixed them with messages and fun quotes. Every box can be as creative and unique to the person you are giving it to as you design it to be. Photo Explosion Boxes are not only the perfect photo gift for the people you care most about but they are also the perfect gift for the crafty gift giver.