This past month was the first time I celebrated Mother's Day without my mom. She passed last autumn. From her I inherited my quirky sense of humor, a porcelain figurine of a Siamese cat, and several tubs containing a dozen or more photo albums. My mom loved creating photo albums, often writing in the margins the names of the people in the photos, dates they were taken, and the places featured.
As it turns out, she also had folders of loose photos that she inherited from her own mom, my grandmother. Unfortunately, these photos were not so meticulously labeled. I can only speculate on who the people in these photos were or even when and where they were taken. Does this mean that those photos remain a mystery? Not necessarily. Detecting a photos origin and identifying the people in the photo is far more possible these days than it was a few years ago.
Who's Who – ​Software, such as Adobe Lightroom, and services, like Google Photos, use facial recognition software and artificial intelligence to help identify faces in photos. The software learns and remembers features from each photo you feed it which makes adding names to scanned photos a lot faster than looking at each picture individually. The more faces it recognizes, the better job it can do helping you identify those faces you find unfamiliar.
Dating Photos – When information is missing, like when a photo was taken, a year can be estimated by the owner of the photos or by looking at other photos in the collection that are labeled with a date and have the same landmarks. These dates can be added to an old, scanned photo while modern phones capture the date and time to the second.
Location, Location, Location – Location information, including GPS, can be added to the photo. There are certain types of software that can be utilized to show you where the photos were taken on Google maps.
With collections like my mom's albums, that have been labeled and dated, the goal is to document and preserve. Once the photograph is digitized or comes from a digital camera or phone, information like names, dates, and places can be added to the file. It becomes part of the image. Keywords, that are later searchable, can include names, events, and any unique information not obviously part of the photo. Each photo can be rated from 0-5 stars with each star having its own meaning to you. Finally, you can also add caption information that expands the story of the photo.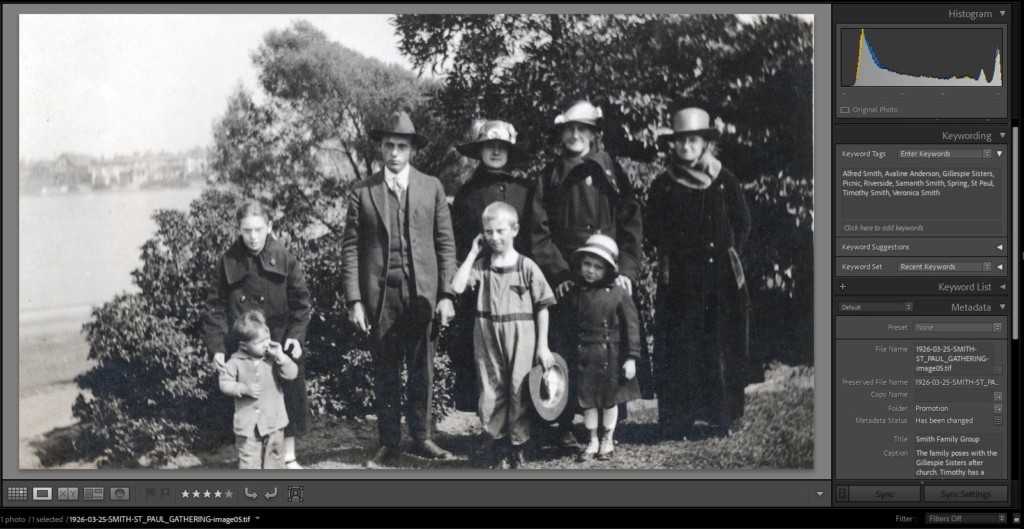 Here at Gold Star Photo Solutions, we can help you curate your collection. This may include digitizing old photographs from albums as well as collecting images from mobile phones, digital media cards, CDs, and even Cloud storage. This process is called Photo Organizing and can often include tens of thousands of images. We invite you to sit down with a representative from Gold Star to discuss your collection so that we can give you an estimate of the time it will take to curate your collection. The end goal is to create a highly searchable, organized by date, photo archive to enjoy and pass along to future generations. Most importantly, your family memories are preserved with information that adds to your story.